Love does not always have to be expressed through mushy words or sappy quotes from one of Nicholas Sparks' novels. In actual fact, there are so many ways to clearly say I Love You.
We all are caught up in strict 9-5 routines, and often it's the communication with our partners that pays the price. For instance, if you have trouble showing your partner you love him or her, your relationship will eventually suffer. But here, we bring you seven beautiful and meaningful ways to say I Love You.
Start Practicing Random Acts Of Kindness
Whether your partner needs help with some DIY project or a little support in the kitchen cleanup, simply lend a hand and show that you care.
Little deeds go a long way!
Some PDA…
Yes, why not!
It is another beautiful way to say I Love You. Public displays of affection reassure your partner that you care and want the world to see it. It is the best thing to do when you are short of words. Don't be stingy; just hold her hand, or link your arm in his. It's sweet and means a lot to the other.
Leave Messages Around The Place
Spice up the relationship by leaving random cute notes around the house for your partner to read. Not only is it cute, but tangible notes are definitely different from the common Whatsapp messages. It will surely put a smile on your partner's face!
Be Kind To Your Partner's Friends and Family
Another way of saying I Love You is to love the people your partner loves – friends and family. You can show them love by simply being kind to them, offering a listening ear or putting up with their quirks. Examples would be making them dinner or offering to fix their broken light.
Listen with Eyes and Ears
Nothing says I Love You better than listening to your partner patiently. Whether he is whining about work or has something on his mind, undivided attention is a precious gift that makes your partner feel appreciated.
It may not solve the problem but helps to make the person feel loved.
Cook For Your Partner
This is one of the most beautiful ways to say I Love You. We know you are not Gordon Ramsay but even cooking a simple dinner (pasta and chicken or a loaded salad) will make your partner feel special.
Little efforts make a difference!
Ask Your Partner What Her Expectations Are
There are times when your partner is expecting a lot of things from you, and you are just not able to follow up. Sit her down and talk about it so that both of you are on the same page.
Expectations are not always hurtful; it is just important to understand what they are and find a good balance for both sides.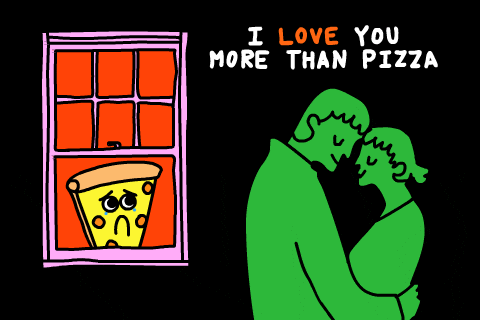 Credit: Giphy
What ways do you use to express love to your partner? Share with us in the comments section below.
Featured Image Credit: Love Panky